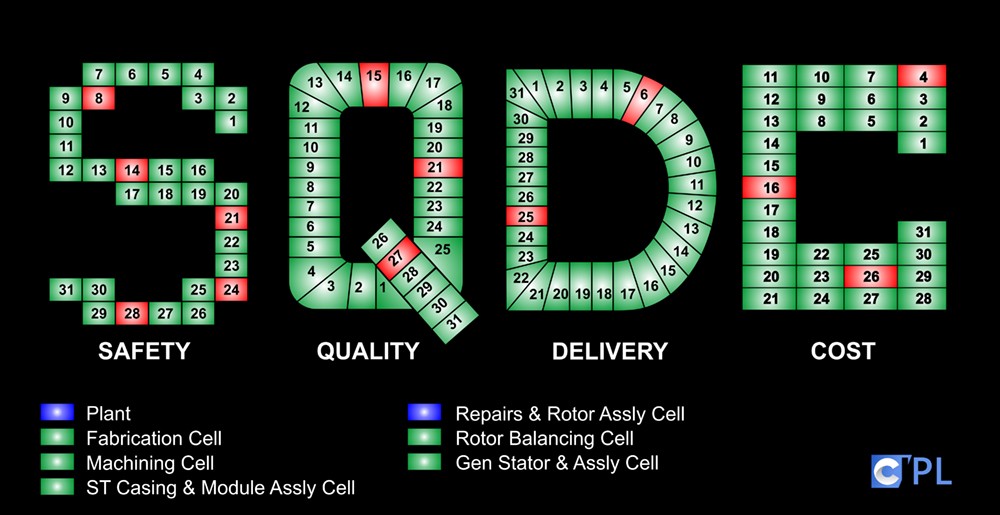 SDQC display data monitoring System
What is SQDC Display? 
SQDC Display is a Data Display Board to show data of 4 factors where S stands for Safety Data, Q Stands for Quality Data, D stands for Delivery Data & C Stands for Cost Data Statics. 
Compucare India Private Limited has designed SQDC Display in such a manner where Company's Safety Data, Quality Data, Delivery Data & Cost Data can be displayed on a single display system date-wise for the whole month and for all departments. 
Let's dive into detailed description of SQDC Display and figure out how useful SQDC Display is for any Industry? 
Safety, Quality, Delivery & Cost Data Display is the robust solution developed by Compucare India Private Limited specially for displaying visually Safety, Quality, Delivery & Cost Statistics. This will help to Monitor data of whole month per date wise. Also, there are facilities available regarding Auto Page Turn for different department data display, and Manual Page Turn while discussing data in management meetings.   
How LED Board Solution for SQDC Statistic Display is achieved?  
The Safety, Quality, Delivery & Cost statistics data is entered date-wise per day into Software provided by Compucare.   

The fetched SQDC statistics data is displayed on the LED Display Board. 
Example:  
Suppose there is no accident on March 1 which can be displayed by Green Light for Day 1 in Safety Data, if there is some accident occur on 2nd March, so Unsafe day can be indicated by Red Light for Day 2 in Safety Data. 
In such a manner all Safety, Quality, Delivery & Cost Data can be displayed. 
So, at the end of the month, you have all the data about the company and that's also on single display. 
The content of the LED Display Board is refreshed at regular intervals. It can be stopped manually while Data Discussion required for Particular Department in Management Meeting.  
Example: 
If we consider the above given example, How Accident took place on Second of March? How can we reduce such kind of accident and for such other discussion you have to stop page rotation manually so you can discuss whole in detail for any single department and can go on second one.  
Benefits of Safety, Quality, Delivery & Cost Data Display: 
Safety, Quality, Delivery & Cost Data on Single Display 

All department's Data displayed on single display so no need to purchase different display systems for different department 

Analysis for Whole month made easy through Visual Display 
As, Compucare India Private Limited is on toes to solve your problems through innovation please contact us for any such customized requirement. We are always there to help you.