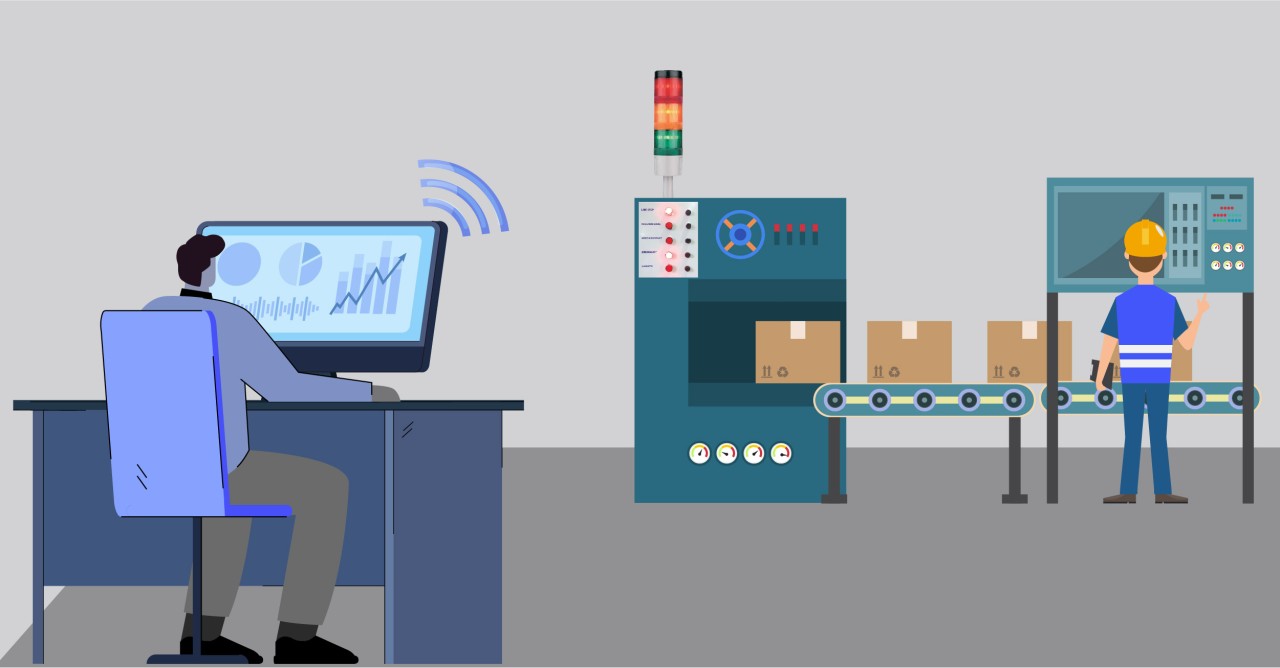 Modern ANDON Solutions in Industry 4.0
The ANDON Solution is instituted by Toyota Production System in order to stop their production line when an abnormality is found on the line regarding maintenance, quality, material, or others, to increase observability and transparency in the process of production.  
 What do you think of when you hear the word "ANDON"?  
 Red, Yellow & Green color stack lights installed over machine tools indicate the status of the machine.  
 STOP!!! Here found some Andon!  
 Displaying machine status could be useful to increase visibility but, in most cases, only data of up-time is recorded.
While we are talking about Modern ANDON System, it includes Visual Alert, Data generation, Data Analyzation, which makes Process Faster to solve problems.
Gathering and integrating working status data in real-time could produce very worthful information.
It can generate erstwhile available foresight for decision-makers and furnish instant notification using modern Andon tools to shop floor personnel to respond immediately making an agile production system.  
Foundation of Industry 4.0 is based on pillars of automatic data collection in real-time. How easier for we can collect correct paperless data is a pathway towards digital transformation.
Implementing reliable up-gradation in the existing systems for digital transformation is the best approach for small and medium scale industries to put a step forward towards Industry 4.0.
Nowadays ANDON System goes beyond only displaying machine status, focused more on gathering downtime data and reports, analyzing & researching long-time solutions regarding repetitive problems. 
While considering Industry 4.0, what weakens the traditional ANDON System? 
The existing data of ANDON is not gathered and stored in a central database 
In a traditional ANDON System, one can get an only visual notification which is an advantage over old conventional methods but still, these ANDON Systems are not keeping historical records that can be used to take corrective actions when the same problem occurs regularly. 
The ANDON is not timely escalated to the higher authority even when it's not solved 
Generally, there are time delay to solve problems as problems are not escalated to proper authority at right time. Which increases Down Time on production line. 
The collected data is not processed or presented in the real time to the concern personnel  
ANDON System is used to reduce down time however, in traditional ANDON System no provision of Data Collection in Real Time to process correct action on time. 
Which ANDON System is right for Smart Manufacturing Industry? 
 Effy ANDON Solution  is the best economical Modern ANDON Solution while you are thinking towards smart factory solution.
This ANDON Solution can be easily installed with your on-going machinery, no need to upgrade your machines for installation of Effy ANDON Solution.
Work of Compucare's Effy ANDON Solution can be best described as an IIOT based highspeed communication channel between a production line operator and various concern departments in the factory.
This Modern ANDON System allows the manufacturer to build a very smart network, where a fixed set of recurring problems with their ideal resolution times could be set.
Also, this solution is very useful to count Availability in order to count OEE. The line operator can quickly raise a problem on the line with just a press of a button and notify the respective department with SMS, Email or Effy Software to resolve it on time.
If the authorized personnel fail to solve the problem in the given time, it can be escalated to higher authority, thus automated escalation decrease delay timing in problem solving.
Moreover, it keeps a track of all the issues and give you updates and reports in real time. That's why Effy Andon Solution is very efficient system to Reduce Breakdown Time. 
Major Benefits of Using this Effy ANDON Solution Are: 
Reduced Breakdown Response Time 

Wireless Solution 

Systematic Allocation of Problems to Concern Personnel  

Paperless Record Management 

Accuracy of Data 

Real Time Data Visualization  
So, The Modern ANDON Solution is a heart of Manufacturing Industry. However, theory of ANDON has emerged since a long time, it is upgrading everyday as per the industry requirement. While you are thinking to keep sync with new technology, up-gradation is the only way one can choose.