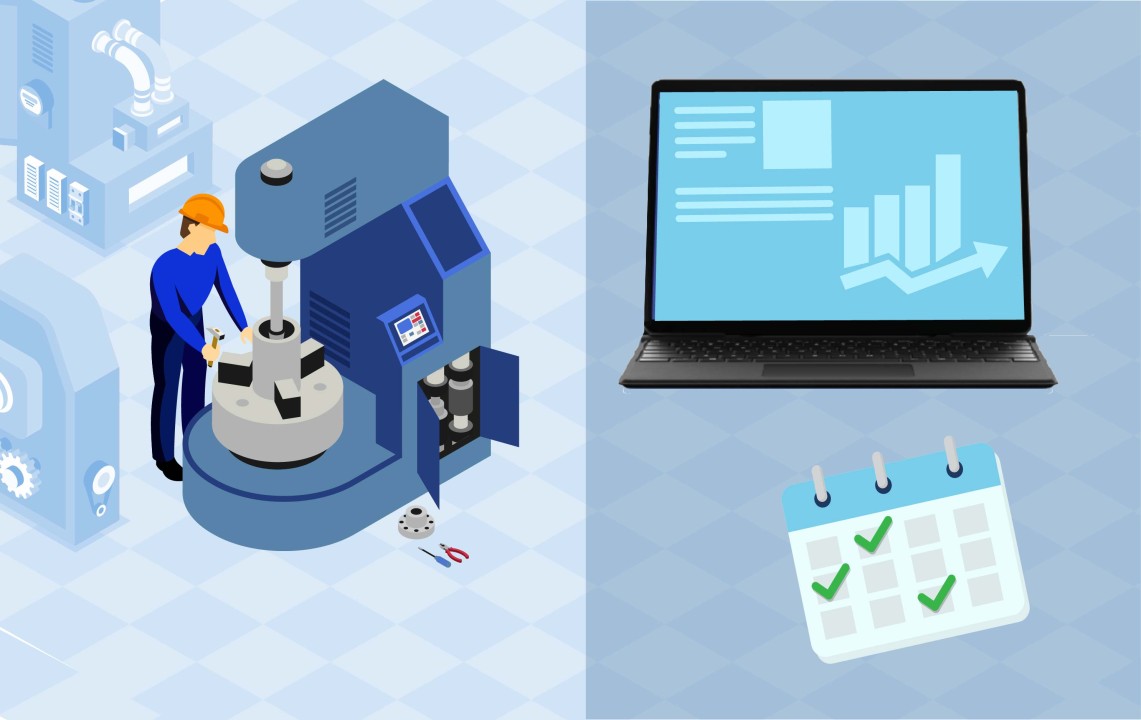 What is Preventive Maintenance Solution for any industry
What is a Traditional Maintenance Strategy? 
When we are discussing a traditional maintenance strategy one can define it simply as a reaction when some failure or breakdown happens. The maintenance team will repair machines after an unplanned breakdown occurs. As per the survey, running a piece of equipment to the point of failure could cost up to 10 times as much as a regular maintenance program would (Buildings.com, 2018). 
Here listing some reasons Why Traditional Maintenance is not an Effective Solution for Organizations?  
The organization's scheduled plan for production will be interrupted due to unplanned breakdowns, which will reduce machine's availability and that directly make impact as a decrease in OEE 

Machine Spare parts are not optimized due to which you have to rush for required parts or have to hold too much inventory which shows more investment without planning 

There will not be any internal planning for long term maintenance activities 

Failures and unplanned breakdowns will continue to occur and no one has any type of control over it 
So, what is an effective maintenance method for any industry? 
As per the survey, the overall use of predictive maintenance rose from 47% in 2017 to 51% in 2018, though preventive maintenance is still preferred by 80% of maintenance personnel. 
So, the question is what are different methods for applying Preventive Maintenance Solutions? 
 The traditional method is keeping records on paper, remembering schedules, and planning them manually. Which is really proven a headache task for the maintenance team. 39% of facilities still use paper records for maintenance reports (Plant Engineering) 
So, enhancement is done in that by maintaining schedules using spreadsheets. But still, in this method, you have to manually put all data all the time and have to give time to verify it on a regular basis. 
Out of an average working day, only 24.5% of the average maintenance worker's time is spent performing productive tasks (Plant Services, 2003). When other time goes to traveling for location regarding maintenance tasks, waiting for approvals and in maintaining complex schedules of maintenance.  
So, we are presenting the latest method for Preventive Maintenance Solutions using Effy Software. 
Effy is software in which you can schedule all your machine's preventive maintenance schedule and you will get automatic notification regarding maintenance. Effy Preventive Maintenance Solution is an efficient system for the equipment to make it from one planned service to the next planned service without any failures caused by fatigue, neglect, or normal wear.  
The best part of this solution is that in this software you can plan a time base maintenance schedule or usage base maintenance schedule.  
In addition, workers can record equipment deterioration so they know to replace or repair worn parts before they cause a system failure. Maintenance activities include partial or complete overhauls at specified periods, oil changes, lubrication, minor adjustments, and so on. 
Here are some advantages of using Effy Preventive Maintenance Solution: 
Reduce critical equipment breakdown  
Every piece of equipment requires timely maintenance, when you use preventive maintenance technology you will never fail for timely maintenance of your valuable assets. It will reduce unexpected breakdowns to a great extent.  
Enhance capital equipment productive life 
As Preventive Maintenance reduces unexpected breakdowns productive life of capital equipment directly increases. 
Minimize production loss due to equipment failures

  
As unexpected breakdowns reduce production can smoothly run, so it directly reduces production loss which can occur due to breakdown of the machine. 
Time & Usages based Alert  
The best part of Effy Preventive Maintenance Solution is you can set Time and Usage base alert for your equipment maintenance, so you will get the notification as per set time or set usage of equipment.  
For the situation of the machine's breakdown, there is also a provision of Breakdown Alarm, which directly notify on equipment's breakdown into Effy Software. 
Controlled Energy Consumption 
As maintenance of equipment is done on time energy consumption of machines will be controlled. 
 Thus, for each factory Equipements are assets, and those assets should maintain regularly, The Effy Preventive Maintenance Solution is the best available option in the market with affordable rates.